Tampa Bay's 1st Black Female Owned Social Media Agency Opens NEW Location
Social Media Agency Owner Shaqualah C. "Brand awareness improves visibility for your product or service, which results in more sales…
---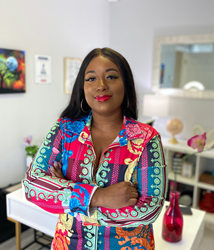 "Brand awareness improves visibility for your product or service, which results in more sales for your business. Social media sites have a tremendous impact on search engine rankings, and they can drive you a ton of traffic to your website."

BRANDON, Fla. (PRWEB)
April 23, 2021
Vicariously Me Marketing has opened a new location in Brandon, Fl. The company helps small businesses to increase brand awareness, generate leads, and grow through social media and digital strategies.
As a freelance marketer and content creator since 2008, founder Shaqualah Cole, while working through other freelance platforms, recognized that her clients required additional services. However, those platforms placed a few restrictions on the services that could be provided to the clients. As a result, she quickly decided to start a marketing agency to fill that need. Vicariously Me Marketing's mission is to paint the world with a beautiful message while helping businesses maximize their investment and increase return on those investments.
"My desire to help my small business clients get results and meet their business revenue goals is the reason I established Vicariously Me Marketing. I wanted to ensure that I could offer as many marketing services to my clients as I could. We want to help clients understand how social media trends have an effect in business growth. Helping small business owners generate leads and scale faster using social media and digital strategies makes this agency what it has grown to be," stated Cole.
Established in 2019, the company offers advertising and social media management (Facebook, Instagram, LinkedIn, YouTube, Snapchat, TikTok), lead generation services that convert to more leads and sales, pay-per-click ads, inbound marketing, automates sales and lead generation processes that help to keep your leads engaged, and finally, search engine optimization that will drastically improve the longevity of your search results.
In explaining why businesses need social media and marketing to improve growth efficiency, Shaqualah advised that; "Brand awareness improves visibility for your product or service, which results in more sales for your business. Social media sites have a tremendous impact on search engine rankings, and they can drive you a ton of traffic to your website." She continued, "Even though Social Media is not a quick fix to increase sales, if executed properly, in time you will see, the efforts will result in increased sales. When you stay connected, offering high-quality services and products, you'll see a boost in growth, and customer loyalty will skyrocket. Once your business has decided to join the conversation on social networking sites, it's also important to have a well-thought-out strategy. Having defined goals at the onset of your social media journey will help you to measure progress."
Vicariously Me Marketing hours of operation run between 9 am- 5 pm daily, and for more information or to schedule a free consultation with the company, you can visit their website at http://www.VmeMarketing.com
Share article on social media or email: